If you are a sports enthusiast and want to always stay updated with what is happening in your favorite team or sports, then you can do it through a sports app. Sports apps are very popular as they give you the latest news, analytics, scores, as well as live stream matches. The market of sports apps and technology is huge and it is expected to reach $ 36.2 billion by 2028. If you are planning to enter this market with your smartphone app, then you should analyze some of the top sports apps that are available in the market. It would help you to learn about those factors which make them successful.
Popular sports apps available in the market
Here is a list of 14 top sports apps that are available in the market along with their important features.
1. 365Scores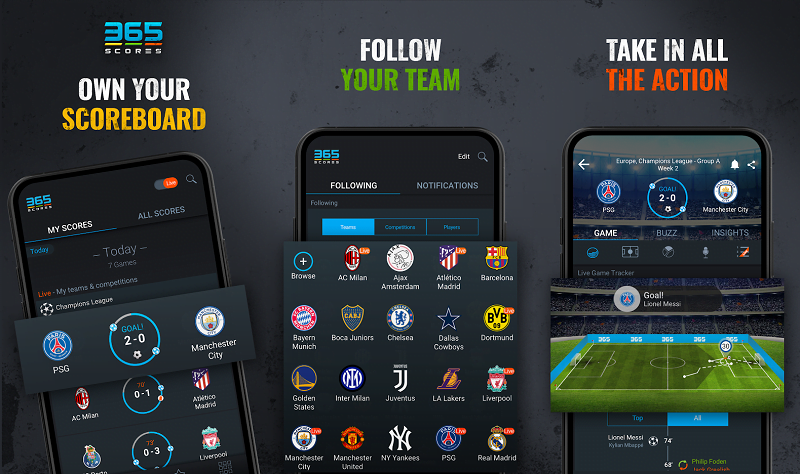 If you are looking for a beautifully designed sports app that provides you with important information about the sport you love, then this app is perfect for you. As a user of the app, you can get the latest news feed of 10 different sports.
If you want to delve a bit deeper behind the news related to your favorite sports, then you can go through the scores, statistics, schedules, and even video clips right inside the sports app. One of the biggest USPs of this app is that you get a live feed of any new updates through push notifications. Therefore, there is very little chance that you will miss anything important regarding the team you support, the players, or any event.
Important features
Track live games.
Follow real-time updates and news on sports.
Check the player's rating and status.
Frequent notifications.
2. Bleacher Report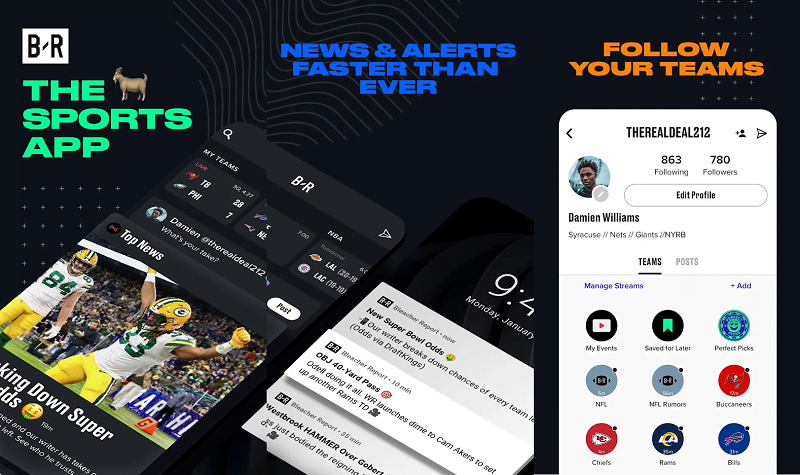 If you are truly involved with a game and want to be constantly updated about any news related to it, then you should download and install the Bleacher Report App. Once you install the app and enable notification on its settings, then you would receive frequent updates about your favorite sports team.
This app has a simple design that can be easily customized for your unique needs. For example, if you want to get news about a team, then you have the option to select your team in the app and you would regularly receive notifications about it.
Important features
Easily Customizable and allows you to select your favorite club or team.
Get real-time score updates and news of all sports.
Bookmark your favorite sports pages for faster access.
Access to popular stories of favorite sportswriters.
The theme of your favorite team on your home screen.
3. theScore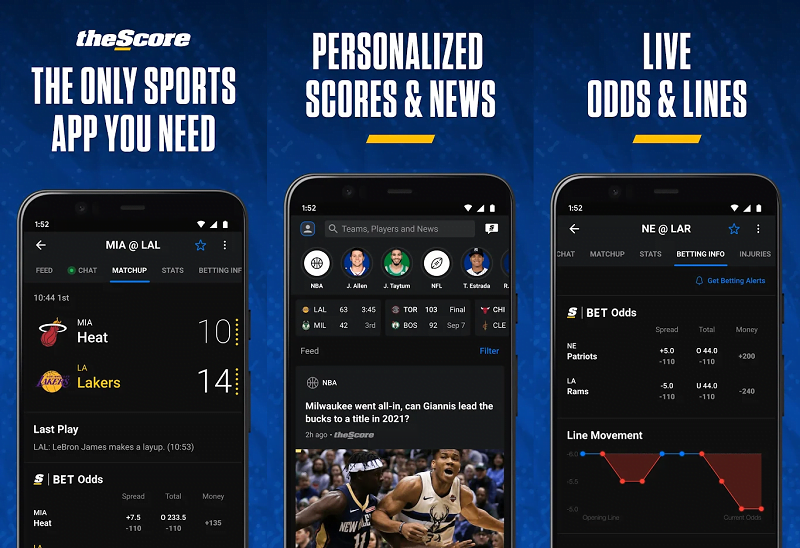 This is a very popular sports app that innumerable sports fans use to get news, scores, stats, and videos of various sports like football, PGA golf, the English premier league, champions league soccer, and many more. You can easily customize this app to get a real-time feed of news and other updates regarding your preferred team, sports, and leagues. Furthermore, you will also get the headlines and scores of your favorite team instantly. This app also comes with a messaging feature through which you can create a group of other like-minded sports fans and have a group chat.
Important features
Dashboard to see live scores of multiple matches and sports.
Group chat for fans.
Personalized news feed.
Stories about players and teams.
4. Yahoo Sports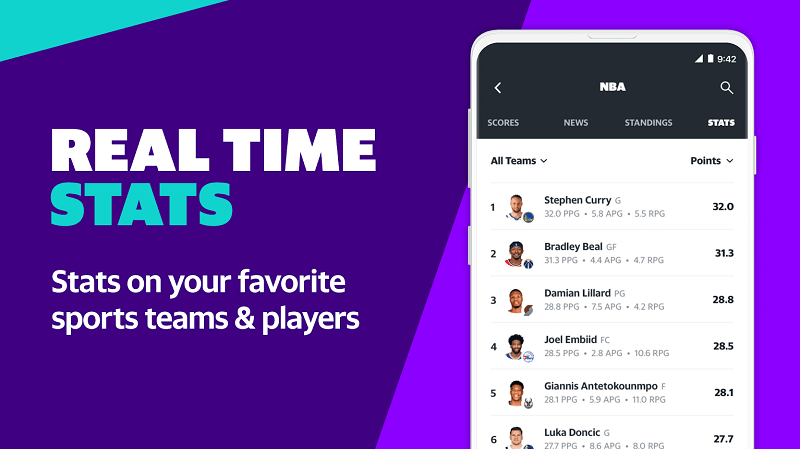 This sports app created by Yahoo! helps you to keep track of your sports team and favorite players through instant updates. Furthermore, this app also provides you the statistics related to any player and also live-streams your favorite game. In addition, you get a real-time score, news, stats of various sports like basketball, football, soccer, baseball, and others through push notifications. This app also provides articles and blogs written by award-winning bloggers, wherein they write content that covers premier league, champions, Europa league, and so on.
Important features
You get information about all major soccer leagues.
You get amazing content from various news websites and sports blogs.
It is easy to navigate.
Customizable updates on your favorite teams.
A search feature is available.
5. CBS Sports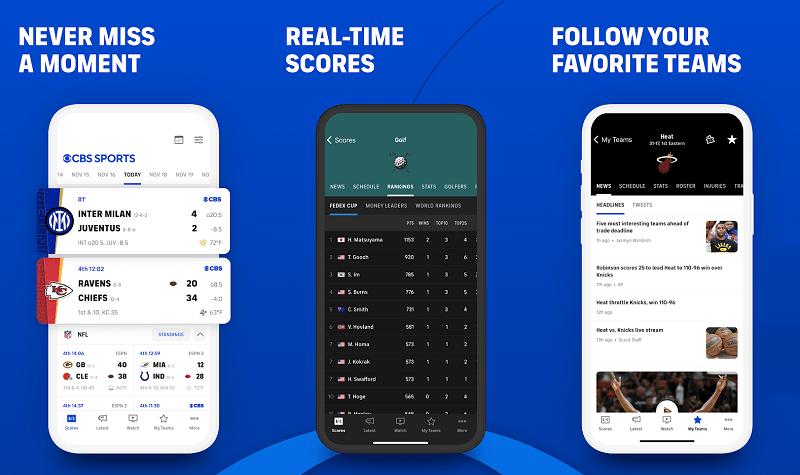 This feature-rich app is developed by the CBS Sports Network and is considered one of the best sports apps that is available in the market. Through this app, you can access live streaming of a match and it is not locked by location. It has many premium features which if you want to access then you have to pay for it.
Once you have paid for the premium services, then you can watch the live stream of any sports anytime and anywhere. This app is also compatible with Android TVs, therefore, when you connect this app with your Android TV, you can watch the live stream of sports events on a big screen.
Important features
Highlights of big games.
Customized analysis and updates.
Easy to use interface.
24/7 access to CBS sports news.
Daily betting tips and advice from experts.
6. ESPN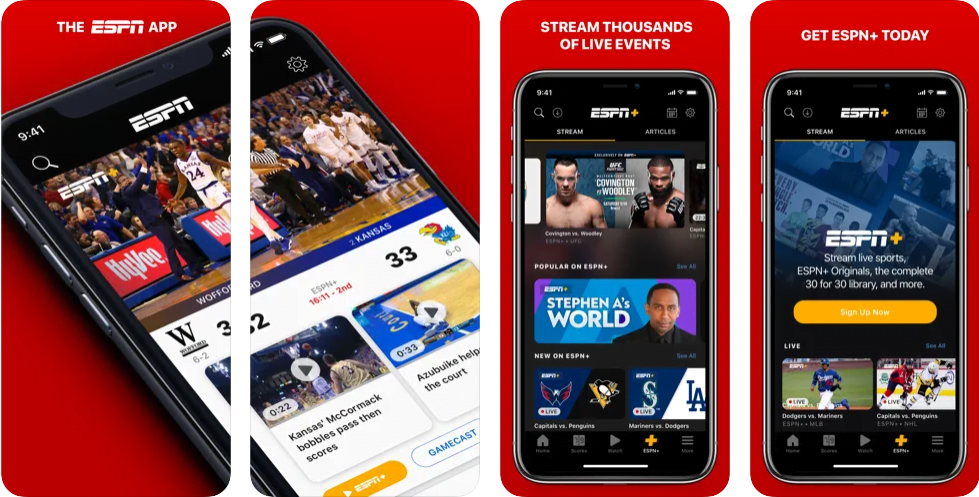 The ESPN app provides amazing sports coverage that you can see on your smartphone. It offers you live feeds of the latest scores and news of the sports in which you are interested. Through this app, you can stay updated about all important games and leagues like FIFA, NFL, and even several minor ones, too. It has both free and paid versions. If you choose the paid version, then you can watch the live stream of various sports events anytime you want.
Important features
Fast access to scores.
Stories and videos of your favorite team and sports.
Easy to use interface.
Real-time notifications.
All original documentaries from ESPN archives.
7. SofaScore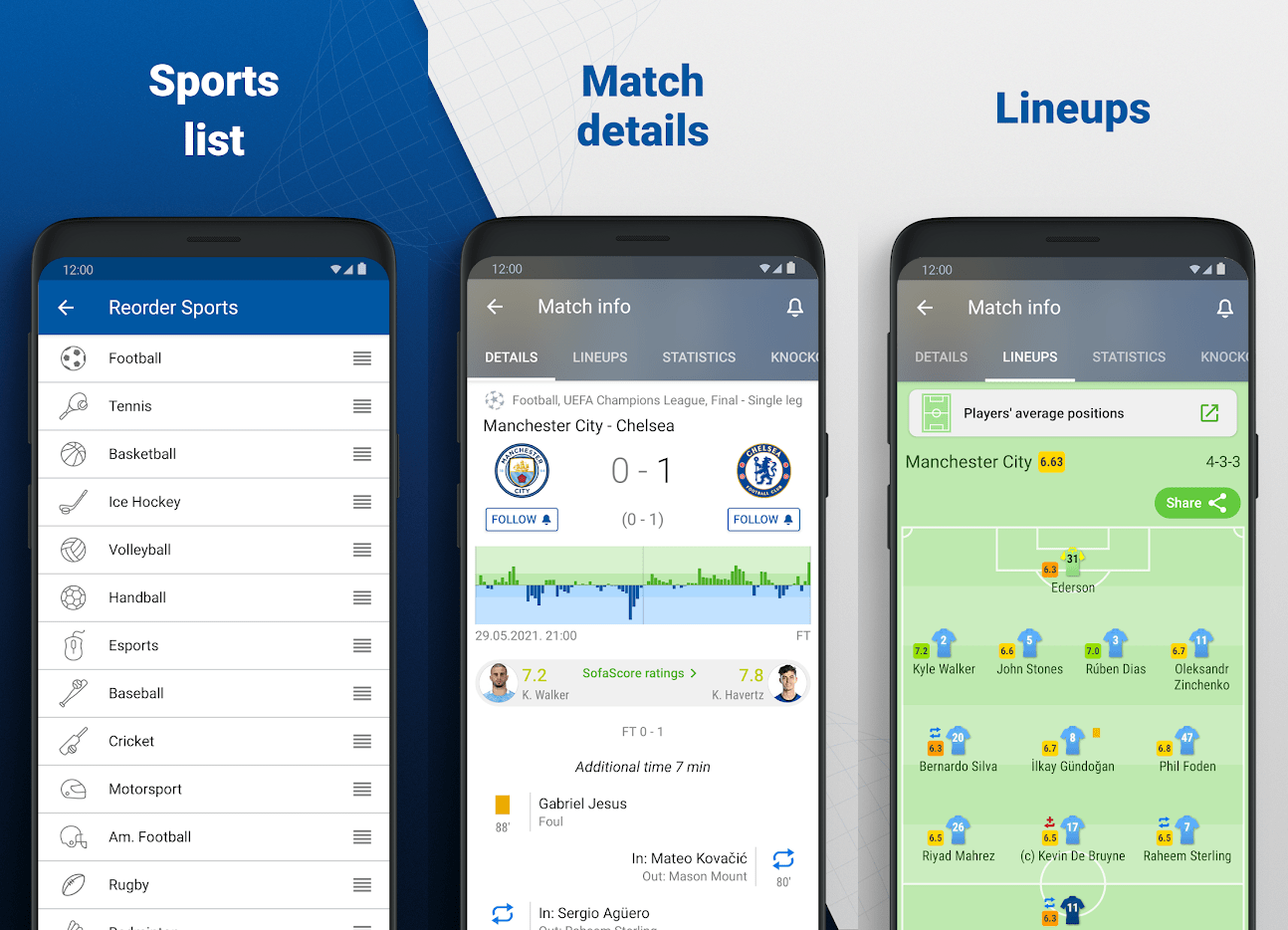 This amazing sports app provides you score updates as well as live coverage of more than 25 sports. This app can easily run even on your Android Wear smartwatches in which you can watch a small video clip of every goal of the match that you are following. It also provides you with real-time updates as well as the ratings of your favorite players.
Important features
Chat option.
Team season statistics.
Easily synchronize with Android Wear smartwatches.
Battle draft feature.
Quizzes.
8. LiveScore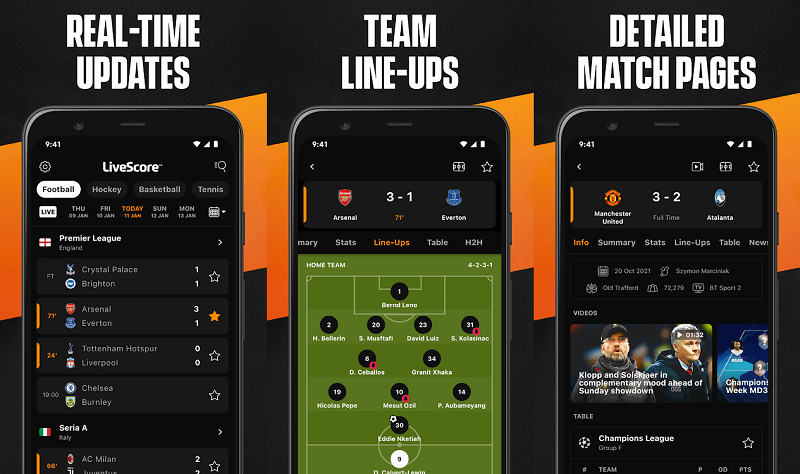 This is another great app through which you can get real-time updates of various sports like basketball, tennis, soccer, football, and hockey. It also offers you an optional live commentary feature with each match that makes the engagement even more amazing. This app has a very clean and simple layout which allows you to easily browse through the game highlights and navigate to the specific features that you want.
Important features
Ball tracking feature through pitch view.
Live notification on your favorite matches.
Calendar feature to track upcoming matches.
Explore different options to find your favorite sports.
9. BBC Sports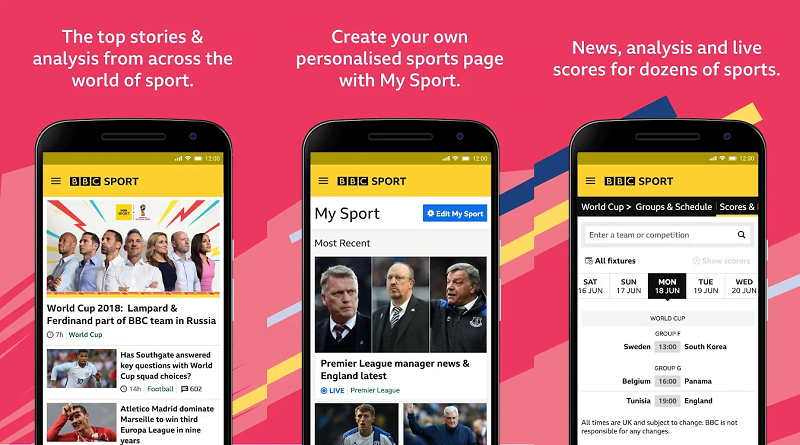 This app is also regarded as one of the best sports streaming apps that provides you with the latest news updates, game highlights, and live scores on your smartphone. It also has a privacy protocol change that allows complete security of the classified data that you have shared in this app.
Important features
Live video streaming.
Streams match with Chromecast.
Personalize the home screen.
Easy sharing of updates with other people.
Create specific pages for different sports.
10. FlashScore
This app with a highly attractive interface offers you the latest news and information on 30 sports and if you want, you can follow around 6000 matches or events by using this app. It allows you to get live updates, find the scores and standings of your team, get analytics of a match, and many more.
Important features
Great performance.
Get updates on live matches through push notifications.
Pre-match and post-match analysis.
Live text commentary.
News on your favorite team.
11. FIFA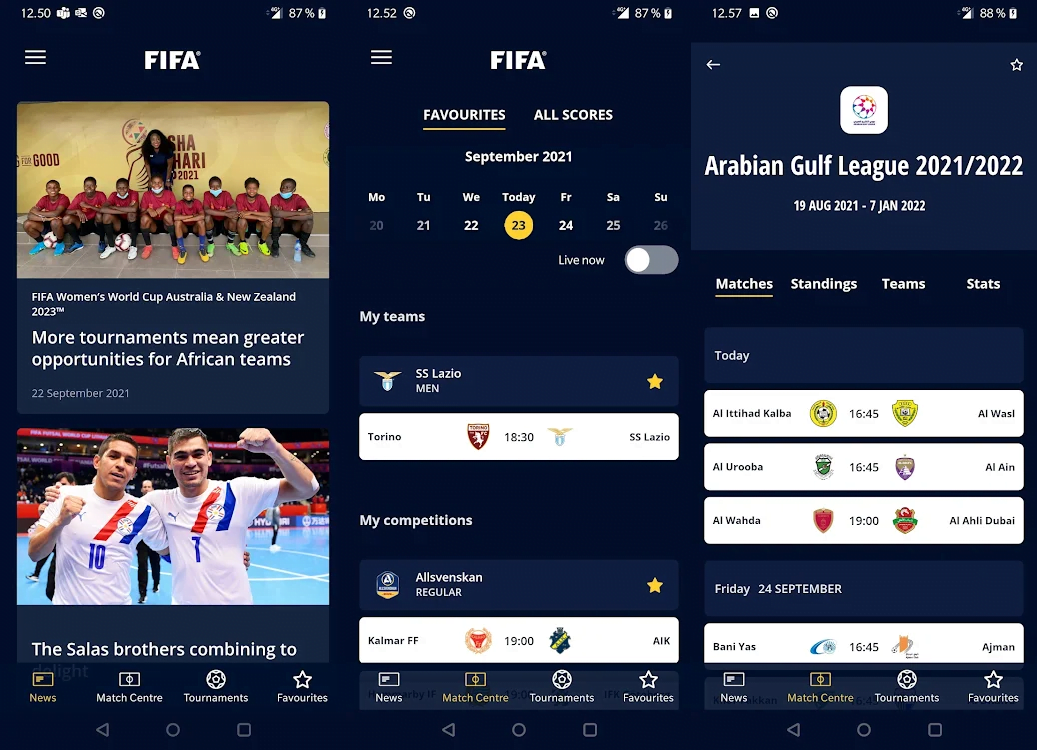 This official FIFA mobile app is amazing and it has numerous features that include a beautiful UI, and a simple design for easy navigation. If you love football, then this app is perfect for you because here you will get almost everything associated with football including news, updates, highlight videos, articles, interviews, and so on.
Important features
Amazing visuals at 60 FPS (watching videos).
Real-time score updates.
News about your favorite team or league.
Easy to use.
12. Fox Sports Go

The Fox Sports Go mobile app is developed by the Fox Sports Network and here you will find information about almost all the sporting events that include football, basketball, baseball, etc. Furthermore, if you want to find more, then you can use the analysis segment of this app. If you have missed out on watching the highlights of your favorite match, then you can do it on this beautifully designed app for free.
Important features
Live coverage of many sports.
College football and basketball events are also included.
Live updates.
Amazing video quality.
13. All Football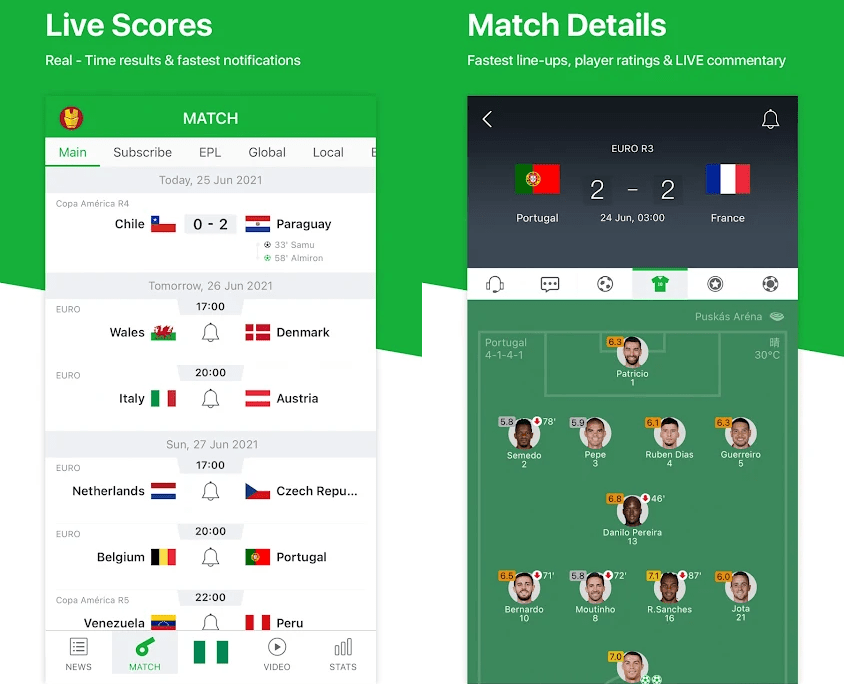 This is another app that is dedicated to the game of football. Here you can find information regarding the highlights of the match, scores of your favorite team, as well as the latest stories. You can easily customize this app so that you will get only stories related to your favorite team or player.
Important features
Live score updates.
Professional odds analysis.
All-sided guides.
Live stream of matches.
14. Cricbuzz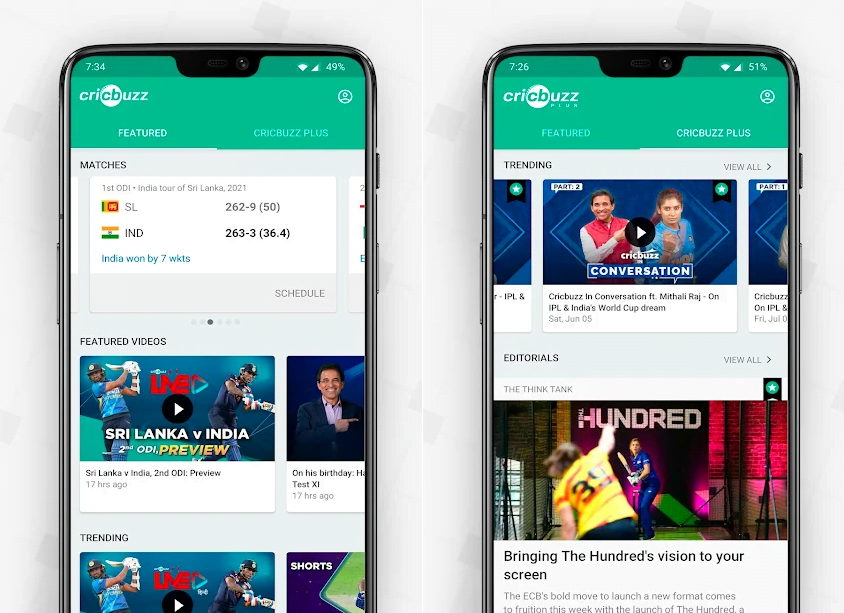 As the name suggests, this app focuses on any news, updates related to cricket. Through this app, you can get comprehensive coverage of all the international matches that are being played or news of scheduled matches for the future. It gives you ball text commentary in English as well as several other languages.
This app provides you with an in-depth analysis of players including their profiles through which you can learn about the runs they have made, the number of wickets they have taken, and the matches they have played. You can also view their performance in the past matches to figure out their current form with the bat or ball.
Important features
Notification for live matches.
Quick commentary on scores.
Schedules of upcoming matches.
Highly entertaining ball by ball commentary.
Latest and exclusive video content of matches.
Cricket news and editorials.
Rankings, records, and stats.
Exclusive coverage of all important matches, and tournaments like ICC World Cup, T20 World Cup, IPL, Champions Trophy et cetera.
Conclusion
The concept of the best sports app is truly subjective because it completely depends upon the person who is using it. Whether the user is a fan of a single sport or is interested in multiple sports? What type of information does he/she require? Whether the user is willing to pay a premium so that he/she can stay updated with the latest news? All these factors play a crucial role before someone settles down for one that truly meets his/her requirements.
Do market research to figure out what most of your target audience wants in their sports app and try to provide it to them at a very competitive price. The overall experience of your app will be the key factor behind the success or failure of your sports app.